I do not currently offer custom photo sets or videos. However, you may purchase one of the photo sets or videos below. All pics come uncensored (i.e., minus the red hearts) and will be emailed as a zipped file. For videos, you will be emailed a password-protected link to the streaming and downloadable video. You may also purchase an All-Access Pass to receive access to ALL of the current AND FUTURE media I sell, plus automatic entry in exclusive free panty giveaways! Place your order by going to the Contact Me area of the site.


---
---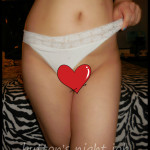 White Thong, 7 pics $7
Teasing you in a white cotton and lace thong. Includes pics of me from behind — bent over my bed, on my knees — and on my back with my legs in the air. My tiny wet thong pulled to the side or pulled down in all shots.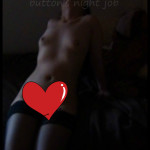 Button's Boudoir, 10 pics $10
Very sensual full body shots of me (with face turned away or blurred) in my favorite Falke Peacock holdups. Dreamy!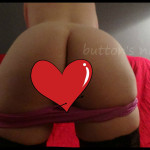 Pink Fuchsia Satin, 15 pics $15
Fun with satin panties! This set has strip tease pics and shots of me in black lace-top thigh-highs playing with my pussy (including one shot with my favorite glass dildo).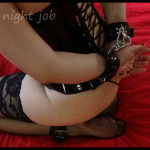 Bondaged Button, 20 pics $20
Tied up in a vinyl corset, stockings, mask and ball gag. Includes a few dildo closeups.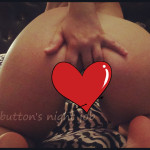 Panty Stuffing, 15 pics $15
A grab-bag of panty stuffing pics, including a few closeups.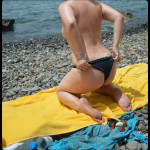 Beach Vacation, 10 pics $10
See me bare it all in the ocean and on a gorgeous European pebble-rock beach. High quality shots taken with my fancy-schmancy tourist camera!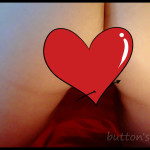 Pussy Galore, 12 pics [For All-Access Pass holders only]
Extreme closeups of my honey pot from many angles — bent over, spread eagle, legs in the air. For All-Access Pass holders only!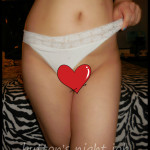 COMING SOON! Cream Pie in Satin Bikini, 30 pics [For All-Access Pass holders only]
Watch me getting fucked from behind without a condom with my beige satin panties yanked down. Shot are from behind (though there is one tit shot) and with my head cropped or face blurred. Includes pics of me teasing my date in my sexy ass and panties, getting my pussy fingered, playing with myself and making myself cum while being fucked, and closeups of my pussy getting rammed and with cum dripping out. Don't you wish it were you? ;) For All-Access Pass holders only!
---
---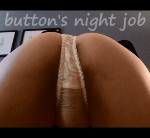 White Thong Tease (2.51) $10
Bits and pieces of one of my first every panty teases, with me bent over, wiggling my ass, and playing with myself in a white silk thong — giving you a little peeks of my pussy in the process. If you listen closely in some of the parts you may hear the porn I am watching in the background!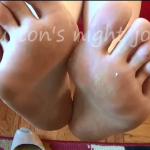 Foot Tease (12.31) $10
Closeups of the dirty soles of my filthy feet, me wiggling and spreading my toes, sitting with my soles touching and wiggling my toes, and finally slipping on a pair of very well worn wedges. Toenails painted beige/bronze, no audio.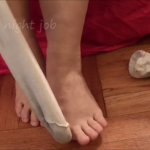 Sock Tease (6.29) $5
Me putting on and taking off a pair of filthy thin white socks that I have just worn while running. Includes me unlacing my well-worn sneakers, showing off the filthy socks, tugging at the socks with my toes and closeups of my soles. Toenails unpainted, no audio.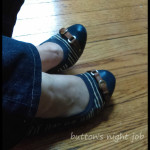 Blue Flats Foot Tease (6.10) $5
Wiggling my toes in a pair of dirty blue flats, sitting and standing on my bed (not on the wood floor shown). Then taking off, patting the shoes with each foot, and closeups of my toes and soles. Toenails painted shimmery pink, no audio.
---
MORE VIDEOS COMING SOON!
Enter your email address below to automatically receive an email when I add new content.
---
---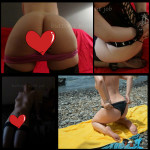 Button's All-Access Pass, LIMITED TIME $59
Holders of an All-Access Pass get lifetime access to all photo sets and videos on this page, ALL future content, and a few surprise exclusive sets. In addition, you will be automatically entered in a quarterly dirty panty raffle held EXCLUSIVELY for All-Access Pass holders. That's right, I will give away a free dirty pair every 3 months…but only to All-Access subscribers. That's four chances to win every year, in perpetuity — those are some darn good odds! Current price is for a limited time only. Go to the Contact Me page to order!