See below for my latest feedback. Want to leave feedback on YOUR purchase?
Post it to my Panty Trust profile
here
. You can also
email me
— if you include a dirty pic of yourself enjoying your purchase (make sure the item is in the pic), you will get a discount on your next purchase. Or you can do both!
---
Gorgeous photos of nylon lover B. enjoying my black stockings [09/24/17]
---
Silk panty lover Darryl enjoying this stuffed and cum in thong [06/05/17]
I got home, aired it out, and it smelled even better. Such a major turn on. Then I shot a big load. :)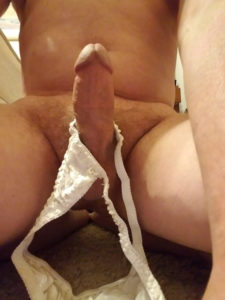 ---
A pic of pantyhose lover JG wearing my pantyhose [05/02/17]
Thank you so much Button, this is my first time purchasing on the Internet and I looked at numerous sites offering similar services and I chose you because you seemed very genuine and considerate of your customers. [….] I just received the pantyhose you so lovingly prepared for and am very pleased, I will be placing another order soon, I'll contact you when I decide what I desire from your collection, I am including a photo to show you my appreciation.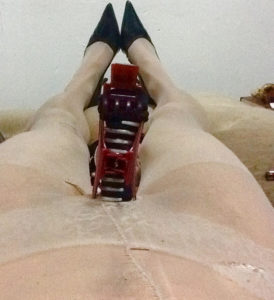 ---
From DB via Panty Trust [04/22/17]
Button, you are undeniably at the top of this fetish. I'm enjoying my 3rd pair of panties from you and it is apparent you enjoy creating your packages as much as I enjoy receiving them. Thank you for another great experience!

---
From Dan up North [01/07/17]
Just wanted to say, your Mario panties were.. simply amazing..!!! What can I say.. You have a new 'super-fan'…hahaha. Your smell is intoxicating, both front and back :D.. thanks so much for fulfilling requests as asked :) The most professional I have dealt with so far in my new panty seeking endeavours.

---
From Bob via Panty Trust [12/18/16]
Just got panties from Buttons today. Everything was perfect. She is the sweetest person to deal with.

---
From YM via Panty Trust [11/08/16]
This is my first time to buy panties from Ms. Button, but it will definitely not be the last time because I like not only her aroma but also herself as a person.

As a business woman, she is easy-going, open-minded, responses quickly and charges with reasonable fees. When we discussed the details of the order, she suggested good ideas from time to time, which makes the correspondence enjoyable and absolutely no pressure.

Speaking of the panties, they come in with a well packed envelope, within which besides the sexy panties there are also a post card with Button's written greetings and a sweet candy. From those details, one can tell immediately that Button is a considerate lady. The aroma from the panties is driving me crazy, making me hard as soon as I open the seal. I will enjoy her panties for a while, but at the same time, I know that I could not wait to explore more about sweet Button:)
---
Satin aficionado Bill back for more of my yummy wares [10/31/16]
---
New panty fan Bill having enjoying some satin delights [09/30/16]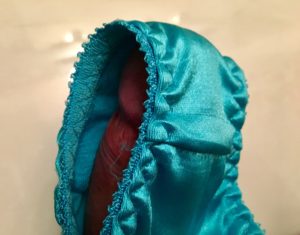 ---
From Kevin aka @pantyaddicted18 via Panty Trust [08/20/16]
Well I've made more purchases with the lovely button! I can't recommend this lady enough so if u haven't purchased from her, what are you waiting for? Now onto my purchases which include a bra, 2 pairs of socks & a pair of leggings! Absolutely loved each of the items equally & had so much fun enjoying them. Wearing the leggings on my face was a blast & loved having your bra over my eyes while having your leggings over my head while taking in the sweet pussy & ass aroma! Loved having your socks over my nose, both inside & out, still nice & damp from your sexy feet sweating & taking the scent in while sitting back. Thank you so much, Button, & will be back for more! Highly Recommended!
---
Panty and sock connoisseur Matt enjoyed my dirty wares ;) [07/17/16]
Oh. Oh wow. I finally had a chance to enjoy the package. And enjoy I did! Your scent on the panties was spicy and exotic, and I loved smelling it over and over again. It was a new scent to me, and just turned me on so bad. I came so hard to your intoxicating scent! And I can't wait to do so again!

The socks were just as good. I cannot believe how dirty they smelled, and I haven't ordered a pair from another woman who made them smell so great. I got insta-hard when I opened up the packages- that's how great they were.

I'll definitely be ordered more in the future, starting with the all-access pass! I want to see more of you now that I've smelled you. :P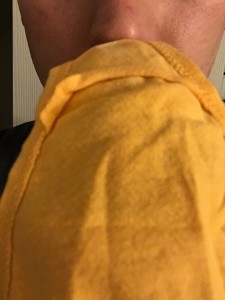 ---
Glorious review from new panty enthusiast D.L. [04/25/16]
The best way to describe your feminine essence would be to say that you smell of spice mixed with musk—at the bottom of the gusset there is a soft sweet undertone if you concentrate on the scent. It is a scent that rapidly grows on you. […] I grew to love your scent and now I don't know how I did without it in my life for so long!
---
Feedback from Kevin the Panty Perv aka @pantyaddicted18 via Panty Trust [01/18/16]
Made a 3rd purchase from the lovely Button! It included a pair of satin panties, cotton panties & a pair of pantyhose in December, great Christmas gift only it was into the new year when I received. Think if I ordered a week earlier it would have been perfect timing. I had a great time playing with the goodies you sent me, absolutely love all 3 items & I give them plenty of love & take great care of them. What is there for me to say about Button that I haven't already mentioned in my 2 previous comments on her panty trust page, not much more to say! A true professional that takes pride in what she does! Button has me hooked on her wonderful aroma, one sniff was all it took & I keep crawling back for more! Highly recommended! You'll be addicted to Button as well! Lookng forward to future purchases, Button already knows of my future plans!
---
Cotton panty lover C. sent me a veritable gallery of wonderful sexy pics — here are my favorite three! [10/30/15]
Thank you so much buttons for the cute little cotton panties you sent me they smelled and tasted so great ,will be buying again from you real soon .here are some pics of me enjoying them
---
From pantyhose lover R. [10/03/15]
Hi, I just receive your nude pantyhose today. Very nice item and I'm totally intoxicated in your tender aroma. Also, your smell remind me of my ex-girlfriend who is also an Asian.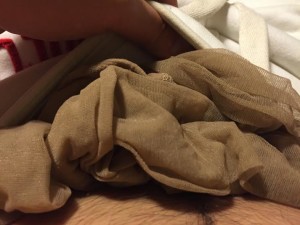 ---
Email from repeat buyer W. [09/03/15]
Just wanted to let you know that I got the panties Monday. They are fantastic! Blew a big load just for you ;) Smell amazing; after smelling them the aroma stays for awhile and I think of you every time I notice it.
---
From the one and only @pantyaddict666 via Panty Trust [08/26/15]
well I recently made a 2nd purchase from button & I'm hooked on her. I was very happy with the gift she sent. I went with the $20 cotton panty special for my 2nd purchase, got 2 pairs. Button, being the sweetie she is, remembered me telling her how much I enjoyed her satin panties that I picked out with my first purchase & sent me 1 cotton & 1 satin pair. The panties have spent quite a bit of time over my face, taking in her sexy scent.

Hey pervs, purchase from Button if you haven't already! You'll be very happy!
---
From a lovely new regular and All-Access Pass holder, K. [07/13/15]
Miss Button,

Well, you got my Asian cherry! By that, I mean I have never smelled the panties of an Asian woman before now. I have always wanted too but just didn't know anyone. I took your advice and let them air out for a few minutes. As soon as I put them to my nose I got aroused. It was all down hill from there. The scent was strong and got stronger as I worked my way to the center of essence. I came real hard to the point that my legs got weak. It was WONDERFUL!!! The shiny satin made them really sexy too. You did a real good job and I am very pleased!! Thanks for all the extra work you put into them. You are a real champ!
---
From "New Fan" [06/17/15]
Button has the TOP panty site. She is very sexy, very hot…..and…very professional. My ordering experience has made me a dedicated fan….I'll be a returning customer for sure! Highly recommended
---
Happy email from satisfied panty-lover J.B. [05/14/15]
I got the panties today and all I can is WOW…I was impressed with the care you took in wrapping them and by the strong, sweet aroma….you smell very lovely! I really enjoy them!

THANK YOU!
---
From M.D. via Panty Trust [05/05/15]
Button was the girl who took my Panty Trust virginity. She was an absolute pleasure to deal with and was VERY accommodating. Her panties were vacuum sealed were packaged very nicely. Opening her panties was a delight, they were nicely scented and coated with her juices. I got off with them immediately and 2 weeks later, i'm still having fun with them. I have since placed a 2nd order with her and I will definitely be cumming back for more!
---
Very sexy pics from Vincent [05/04/15]
Love the panties Button. You have a very sweet scent.
---
Another sweet email and pic from Robert aka @Dutchseat [05/04/15]
Hi lady Button, Your panties are yummie. Love them so much, can't get enough of them.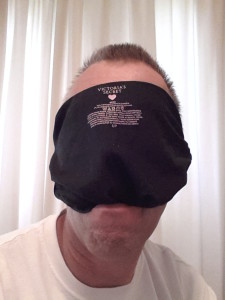 ---
Sweet email from P.M. [04/27/15]
Thank you and I appreciate what you do. I had the chance to enjoy them once on the day it arrived. The hard part is not getting my cum on them :P thanks again….
---
Email with pics from Pantysniffer, who enjoyed his panties and nectar [04/17/15, 04/24/15]
hi! just letting you know that i picked up your package a little while ago…all that I can say is, WOW! very professional packaging! i am going to wait until i get some extended alone time tomorrow to open your panties…but, i did swallow every last drop of your DELICIOUS nectar…it feels so good having you inside of me! did you insert that whole bottle into your pussy? i had to lick the entire outside of the bottle and even inside of the vacuum package…i didn't want to waste one bit of your essence! Miss Button, you have won me over! i'll be placing another order later this weekend…i also won't be buying from anyone but you from now on! Thank you VERY much, beautiful!
---
Email with pics from Pantysniffer, who enjoyed his panties and nectar [04/17/15, 04/24/15]
hi! just letting you know that i picked up your package a little while ago…all that I can say is, WOW! very professional packaging! i am going to wait until i get some extended alone time tomorrow to open your panties…but, i did swallow every last drop of your DELICIOUS nectar…it feels so good having you inside of me! did you insert that whole bottle into your pussy? i had to lick the entire outside of the bottle and even inside of the vacuum package…i didn't want to waste one bit of your essence! Miss Button, you have won me over! i'll be placing another order later this weekend…i also won't be buying from anyone but you from now on! Thank you VERY much, beautiful! [April 17]

…as for your panties, LOVE them…your scent is WONDERFUL!!! i opened them up last Saturday and I have gotten off every day since then…you have drained so much cum from my balls…i look forward to the next pair. [April 24]
---
Email from I. [04/08/15]
Hey, I got your flats today and had a great time with them just now….I came so hard to that cheesy sour smell left right where your toes'd be. Smelled it for over an hour. I'll definitely order more shoes from you in the future….Here's a pic of the results.
---
Email from J.A. [02/27/15]
It's been a while since last time I bought from you but I have to say your smell gets me going instantly. I wanted to say thank you and I wanted to purchase from you once more.
---
Super hot testimonial from Kevin via Panty Trust [02/10/15]
Hey!
Just thought I'd get back to you regarding your delicious panty & thong. To sum things up, I (& my dick) had a blast! I opened up the package & read your note & then opened up the thong first. Moments later, I held the thong up to my nose & simply got high on your scent! I started with the strip that was riding up your ass crack all day, sniffing & licking slowly moving my way to the front. It certainly didn't take long for me to get hard, I was hard after reading your note & got off several times throughout playtime. I eventually moved onto the yellow panties & went straight for the gusset & started sniffing & licking it. The hairs from your bush got lots of licks, thanks for that added bonus! I then moved to the backside of the panties & did more sniffing & licking & absolutely loved feeling the satin panties,felt so good & soft. Later that night, in bed I stuffed your thong in my mouth having oh so many dirty thoughts while wearing Lauryn's panties. I had my hand down the panties stroking & jerking away on my dick wishing it was you stuffing my mouth, dominating me & doing me with a strapon. Also that night I had the yellow panties spread over my face while laying down with my hand down my pants jerking away on my cock while taking in your sweet scent! As for your service, appreciated the updates on when you were going to prep & ship the goodies! You are an A++++ panty seller & I'd recommend you to any perv looking for someone that sells panties. My experience was a pleasure & plan to be back for more at some point!
---
From a VERY sweet Panty Trust buyer [01/11/15]
It's been a while since I purchased panties from you. Just a note to say that I finally put them in my mouth and have been chewing on them and sucking out all the flavor for an hour or so. Very tasty. Thank you again. Sellers like you make Panty Trust yummy for buyers like me.
---
From Robert aka @Dutchseat via Panty Trust, plus a few incredibly sexy pics! [01/10/15]
bought 2 fres pair of panties, and I could choose which one I liked most. Lady Button delivered them quickly, and professional. love them and the smell which is perfection. once you have smelled her, you want more. this is like heaven on earth.
---
From repeat buyer C.: A smoking hot cum tribute video for me and some of my best Panty Trust friends — we do love to share our guys, you know! ;) [01/03/15]
---
From Flyboy via Panty Trust [11/19/14]
Button is the Asian Panty Queen! Most important, her panties are full of her intoxicating scent. Believe me, they are full strength. She is a great communicator and takes her job seriously.
---
From William via Panty Trust [11/06/14]
I don't know if I can fully express how great Button is! She is responsive to how you want things, the panties are fantastic, and she has very fair prices. I absolutely recommend her. She is top-notch.
---
From B.K. via Panty Trust [10/21/14]
Got the panties tonight. The aroma is delectable!
Button is 100% professional and discreet HIGHLY RECOMMENDED!
---
From BBPB via Panty Trust [10/12/14]
amazing girl, the whole process was discreet,simple and proffessional. button is without a doubt the girl for all your pantie fetish needs. i will be a repeat customer for sure. her scent is sooo! sweet and addictive. thank you my beautiful butt butt !
---
From Steve via Panty Trust [08/17/14]
There are many panty sellers, but if you want THE BEST, you have to go to Button. She goes above and beyond to insure you are satisfied.
---
From L. via Panty Trust [08/12/14]
Button was very nice and professional! I'd recommend her and agree with the other positive reviews.
---
From Boudi via Panty Trust [07/30/14]
button is a great seller, very quick responses and was able to fulfill my order with the details I requested. Highly recommended.
---
Some VERY hot pics from M.T. — bra, panties, and clothing courtesy of Button! [06/30/14]
---
From M.T. via Panty Trust [05/17/14]
Button is easy and fun to talk to, and was more than willing to fulfill everything I wanted. Went way above and beyond, and filled all my request for things of hers other than just panties. She was with me every step of the way to make sure everything was perfect. And the prices are unbeatable. All and all, a great experience!

And as for the panties? Both pairs I bought arrived plastered in spicy musky juice, and were a joy to… enjoy.
---
From Jeff [03/29/14]
Better late then never but I just wanted to tell you I loved your "product."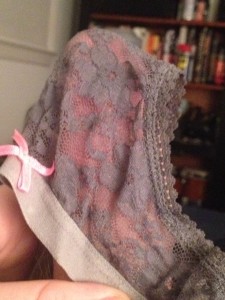 ---
From Ben Dover [03/22/14]
I must say your silky panties I purchased were incredible. I was so excited to receive them, I did not expect the extra you put into them. A new fan created.

---
From Rick via Panty Trust [03/21/14]
button you are the best will order more
---
From pantybuyer R., who returned to purchase a custom video and pic sets! [03/06/14]
Hi Button,

Thank you so much for the video. It was exactly what I wanted to see, just perfect. I also wanted to let you know I appreciate every added second. The next time I order your panties I will have to order a video with it. […] You are by far the best panty seller. Thank you.
---
From Steve via Panty Trust [03/02/14]
What better way to use a tax refund than to spend some with Button? She is a total joy to work with, and her panties are simply the best! She keeps you posted on the status of your order at every stage with clever and personal E-mails. You just can't go wrong dealing with Button.
---
From B.D. [03/01/14]
I've just received the package and let me say–your service is excellent. Truly vacuum sealed, discreet, and fast. As soon as I cut open the vacuum sealed package, the aroma was apparent. It took an incredible amount of self control to let them air out like you said, haha. I was getting horny just thinking about them, but now that they're here, it's a whole new level.

The long and short of it is; this entire experience was amazing. And the product is even better–more than I could have hoped for. Don't be surprised if you hear from me again soon. Thank you again.
---
From M., who took some awesome action shots in my panties [02/22/14]
---
From B., who ordered a scent swatch [02/19/14]
Got the scent swatch today and it is phenomenal! One sniff (after letting it air out for a minute or 2) and I was as hard as a rock. My heart was pounding in my ears.

Your taste and fragrance is sublime my dear! I came harder than I have in quite a while! Friendly, easy to talk to and professional. And certainly enthusiastic about it :)

Here is the aftermath: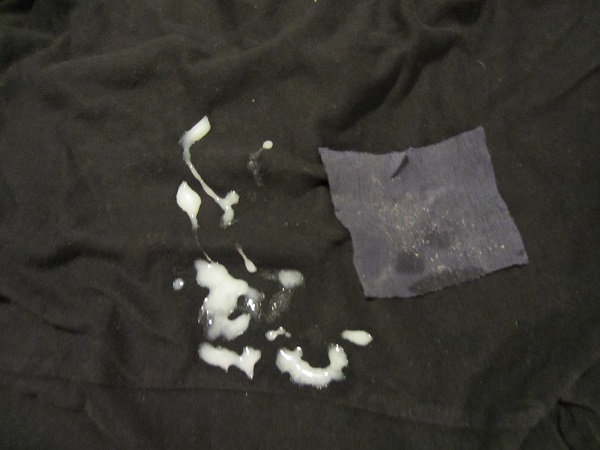 ---
From Nick via Panty Trust [02/04/14]
Couldn't have been happier with my purchase from Button! She was very quick to answer all of my emails. She came across very nice, personable, and professional. My request was processed fast, and I got my package in the same week. Her product came exactly as advertised and her aroma was fantastic! Definitely will continue to buy from her again!
---
From G., who also shared pics of his love doll nattily attired in my panties and socks! [01/26/14]
So I got my "Goodies" yesterday, they were all AWESOME. Certainly way above my expectations and light years above from previous panty sellers that I've dealt with. The (your) aroma and taste is what I've been looking for, YUM. The Pussy Pacifier was "extra yummy" what a nice, thoughtful gift that was – Thank You!

---
From Brendan via Panty Trust [01/25/14]
Button is a fantastic seller A+. She goes above and beyond expectations. She answers her e-mails very quickly and in a friendly manner. She always makes you feel welcome. She really loves pleasing her customers and cares when they do not receive their order. The postal office managed to lose my initial order so button sent another one. The post office lost that one again >.> However, Button still sent another pair of panties to me. If that isn't A+ customer service, I don't know what is.

As for the panties themselves, THEY ARE AWESOME. The smell was intoxicating and I couldn't control myself so I helped myself to them :D.

Button is highly recommended for all your used panty cravings! You absolutely cannot go wrong with buying from Button.
---
From Mike via Panty Trust [01/18/14]
First time ever buying panties, and Button made this a great experience! The entire process was very simple, and her communication was one of the best buying experiences period (I've done lots of Ebay work, so I can speak about the importance of communication). Also the product was pretty amazing, if you know what I mean. ;)
---
From Steve via Panty Trust [01/15/14]
Button is the best! Great communication, and really cares about what she is selling. This was my first order, and she went well beyond what I ordered to assure my satisfaction. Like Arnold said "I'll be back!!"
---
From Vintage via Panty Trust [01/15/14]
A very satisfied buyer after working with Button.She made the experience very comfortable and amazing.Her communication was very professional and her prices are VERY fair. Button cares deeply about the quality of her sale and shows that she cares about her buyer being satisfied. I've had bad experiences in the past with other sellers/sites on the internet so I am VERY happy that I've found Button.
---
From Jim via Panty Trust [12/30/13]
Buying panties from Button is terrific experience. All my emails were answered promptly and she kept me informed on the status of my order. Though I took advantage of one of her specials and already thought I was getting a good deal, some special touches ensured I enjoyed my order. The scent of Button's items is delicate, slightly spicy, and thoroughly intoxicating. If you are a panty enthusiast, do not hesitate to place an order with Button today!
---
From Michael, who enjoyed his custom video VERY much! [12/16/13]
I am very satisfied. ;)
---
From Adam via Panty Trust [11/25/13]
Nothing but positives for button, truly a 12/10 seller, because she will defiantly go the extra mile to make sure you are well taken care of. From the moment I sent my first email to her, I got a response from her very quickly, and once everything was discussed, again quick responses on when my order would be ready, and shipped out on. This is my 1st order, and will be in the process of ordering again shortly. Button is an amazing girl to deal with, and talk to. Very much satisfied with my order, her scent was exactly what I was looking for. Her panties speak for themselves, so I would advise to put your order in before her cue is too long!
---
From B. via email [11/07/13]
I must tell you I thought I might be uncomfortable with this but you are very understanding. Thanks!
---
Thank you to ALL of my wonderful customers!

xoxo, Button
---
Feel like spoiling me? I love surprises!
Amazon gift cards can be sent in any amount, to anyone, and anonymously — only the "name" you fill in is revealed to the recipient. If you would like to send a small token of your affection, click
here
and send a gift card to buttons.night.job@gmail.com. Or you can browse my Amazon wish list here.